If you think we have something in common or you've seen me around the writing communiites or elsewhere on the internets just coment here and I will more than likely add you.
<3 Nicluv
rosieb
for nominating and
dusty_evals
(Jaimed68) for seconding "Undead Desire and "Sakura" I'm really flattered. Now onto the banners before I slip away into oblivion again...
(
Pretty, Pretty, Shiny, Shiny
Collapse
)
I'd like to thank
Current Mood:

pleased
Chapter Fourteen:
Ashes to Ashes
(
Authors Note
Collapse
)



Slinks back into the mist....

I've officially completed another Serial!!!
Current Mood:

accomplished
Title: I Want it All
Author: Nicluv1787
Rating: K
Genre: Introspective
CU/AU: CU(anime)
Prompt: Éclair
Characters: Éclair
Words: 341
Summary: She'd wanted it all, but greed leads to ruin.
A/N: More of the A-Z prompts. I need more prompts btw, if you want to help, comment here. ♥ I'm trying to explore different characters, especially ones that I don't necessarily like.
(
I Want It All
Collapse
)

---- My Muse is definitely hanging out in the Ouran Fandom at moment. Sorry IY-friends. :D
Current Mood:

exanimate
Title: He Could
Author: Nicluv1787
Rating: K
Genre: Romance, a dash of introspective
CU/AU: CU(Anime)
Prompt: Jealous
Characters: Tamaki & Haruhi
Words: 726
Summary: Tamaki reflects on nearly leaving it all behind…
A/N: For
browneyedmami who wanted some jealous Tamaki. :D
(
He Could
Collapse
)

Current Mood:

accomplished
Her Destiny
:
Three women, and the one object that binds them all.
It's been added to my catch all collection, The Road Less Traveled.
(
The Red Dress, In Search of Father, Reluctant Bodyguard, and Undead Desire Updates under the Cut.
Collapse
)

On a related note, there's some demanding muse hanging over my head. I've had a flurry of plot bunnies and I have a huge list of projects I'm hoping to finish this week. *falls over from exhaustion*
Current Mood:

artistic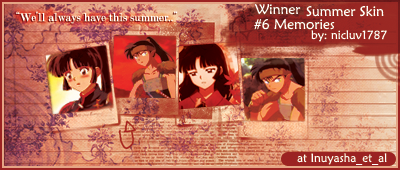 Look at this gorgeous banner
dechanter
made for my first place win at
inuyasha_et_al
!
Summer Skin:
She thought that summer was lost to memory, then he walked back into her life.
SangoXKouga Pairing.
Oh yess, I now have a new favorite alt pairing. Possibly more from them? We shall see, We shall see.
That's it for tonight. I swear. Maybe.
Current Mood:

chipper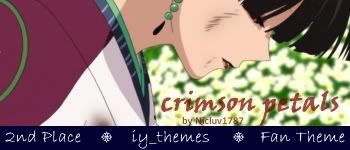 Crimson Petals:
She kept returning to him, and he continued to lose her.
It's been added to my catch all collection, The Road Less Traveled.

Heart Breaker:
Kagome sees Inuyasha with Kikyo, again. These are the ensuing results. (Parody)
It's been added to my collection Just for Laughs.
(
Hydrangea Cafe, Undead Desire, And The Red Dress Updates under the cut.
Collapse
)





Phew that's all the updates for now.
Got a couple of new shinies.
Current Mood:

awake
Hydrangea Cafe:
Kagome returns to her hometown to start over after leaving a bad relationship, and a haunted past. That's where she meets Kouga, a notorious player. She isn't looking for love but sometimes love finds you…
-Modern day AU, if it wasn't already obvious.
Yes I know I have a million serials going, but this was the plot bunny I mentioned before that's been nagging at me for forever, so I broke down and wrote her. I'm super excited about this one and it's very plot heavy. Which equals instant love on my end. Read if you're interested in the pairing or if you just love me and like to give me feedback *puppy dog eyes*
Current Mood:

content
A few Kouga/kags, I have a plot bunny that's overtaken my muse... apparently in my icons too.
I'm rather proud of these actually.
Ouran and Inuyasha Icons Six of each.
Enjoy.
(
Icons under the cut
Collapse
)

So today was my day off and after seeing Alice in Wonderland in 3-D I came home and decided to waste time making icons. AH free time.
Current Mood:

artistic